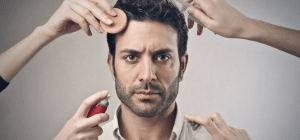 In the past, men did not care much about their appearance. Nowadays it is different. Personal care is now almost as important for men as for women. It is still the women who spend more time and effort on their personal care, but it is undeniable that more and more men are doing this.
Maybe we can say that men are proud today to look good, not only in public but even at home. The fact that there are countless male grooming products nowadays says enough for that matter!
Male Grooming Tips For Looking Good and Feeling Good
If you look good, you will feel good yourself. That is probably one of the reasons why many men are proud to look good. If you have done your best on your appearance and then you see the result, that feels good. It makes you feel more confident and easier in social interaction.
Looking good does not have to be expensive. You really do not have to spend money on money to look good and feel good. There are different ways to work on your appearance without spending too much money. Here are a few tips for all those men who want to improve their appearance!
Beauty Tips For Men
There are men who like to leave their facial hair and there are also many ladies who like to see their men with facial hair. But if your facial hair is a fiasco then it is better to take a razor in hand. A freshly shaven face looks a lot better than unkempt facial hair!
Self grooming tips for men
Most men do not know how to give themselves a manicure. But that does not mean that you have to go to a nail salon and have to pay for money with a nail specialist. Maybe your mother or sister can help you with your nails or, better still, maybe the woman in your life can give you a manicure. They are probably happy to help you. Just bring up the courage to ask for help. You will see that they not only love to help but also give you valuable tips for your nails. One such tip is, for example, moisturizing with powerful moisturizers such as Argan oil!
Skin care tips for men
Men should use men's grooming products instead of soap. Soap contains harsh chemicals that can dry out your skin. Soap is OK for other parts of the skin but not for your face. The skin on your face is particularly sensitive. Use a mild cleanser and a mild facial scrub to remove dead skin cells. The result is a fresher and smoother skin. Moisturizing the skin with Argan oil is also essential, especially if you are concerned about the appearance of wrinkles and fine lines.
Want More Personal Grooming Tips For Men
I hope you found these tips fruitful to groom yourself and develop your personality. If you want more advises on male grooming than you can checkout our homepage.
Checkout My Pick For Best Male Grooming Range