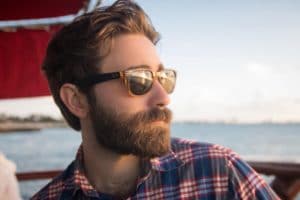 There was a time where the treasure of men was their abs and their muscles. As time goes on, the list continued and it now includes beards. There are so many great things that a beard brings to a man's life. It shows his maturity; it gives him a personal sense of style; it adds to their identity; it builds their self-esteem, and also enhances their looks. That is why many men seek to grow beards in our current generation.
To Spot A Healthy Beard, The Following Will Be Its Characteristics
Thickness:
The length of the beards measures beard thickness. It is easy to tell this because you only need to look. The length of a man's beards will entirely depend on their references; it can be between 2-3 inches or more.
Fullness:
The fullness of a beard is measured by, how many hairs one has on their beard areas. Those that have patches are not described as fuller beards.
Liveliness:
This is seen by how healthy, strong, and shiny one's beards are. When the beard has a lovely glow to it, it shows life. For anyone to have this, proper beard care is a must.
In growing thicker beards as many men would wish, it requires effort, patience, commitment, perseverance, and dedication. To grow a thicker beard, you will need a timeframe of around four weeks. In these four weeks, you have to be patient and do not make any rash decisions.
In the first week, you will witness different growth rates in different areas. There will be patches, and this may be bothersome. Even so, refuse to be discouraged and stay your mind on the target. It may look funny but give it time instead of shaving it off.
In the second week and third, you may experience some itchiness but be patient because it will not be for long. At this time there will be a notable change. If your beards are itching, it may be because new hair is growing which may cause irritation to your skin or it may be because of improper or poor grooming.
By the time you hit the fourth week, you will see remarkable results. The beards will have connected perfectly, and any patches will have filled out. From this point, you can decide to shape them, or you can leave them to keep growing to its full potential.
How to grow thicker facial hair faster and naturally?
Now that you have reached the fourth week and have seen some encouraging results, you can do the following to help you grow and maintain thicker beards.
Avoid Stress to promote beard thickness
Stress is the worst enemy of your beards. Stress will cause your beards to thin and even fall out. Therefore, always take caution. Never allow yourself to be in stressful situations that take a toll on you. Master your defense against stress by developing a coping mechanism.
Exercise more often to make beard thicker
Exercising is recommended to stay healthy always. Since it is good for the body, you can be sure that it is also good for the follicles. When you exercise, blood circulation is enhanced, and the metabolism rate also increases. When these two happen, there is an increased supply of blood, oxygen, and nutrients to the follicle. Therefore, this will result in better and thicker beard growth.
Use beard thickening products
There are so many beards thickening products in the market that work magic. Beard thickener products are made up of ingredients that facilitate faster growth of beards. The components will also nourish the beards leaving them shiner, stronger, fuller, and thicker. The supplements will typically have all the vital vitamins and minerals that your follicles need. Since they are the formulation of natural products, you can also be sure that they are safe for human consumption and that they are useful because the ingredients are proven.
Use beard thickening serum
When it comes to grooming your beards, you cannot miss thick beard serum in your beard kit. On your day to day grooming procedure, always apply some beard thickening serum on the beards to give it a smooth final touch. The beard oil will also add to the shine of the beard giving them the perfect glow. Once in a while, you can always try hot oil treatment for your beards. This will enhance your beard's softness, and it is also good for your skin.
Massage your beard with thick beard serum
While you carry out beard grooming, remember to massage your beards. When applying the beard oil, this is the perfect time for a massage. The massage will stimulate beard growth because it stimulates blood circulation to the beards. This will promote the flow of nutrients as well as oxygen to the follicles and thus encourage growth.
Always Stay Hydrated And Eat Healthily
Water is vital for the body. It is the more significant percentage of our bodies. When the body is hydrated, your skin will be healthier and more alive. This means that your follicles will also be healthy. Skin dryness does not promote hair growth, and dehydration will take a toll on the follicles as well.
Remember to eat balanced diets and eat meals that give you the highest supply of essential vitamins like vitamin A, C, E, B6, B13, and others. This also goes for proteins. Your choice of food will significantly affect your beards.
Take proper rest
Overworking your body is not healthy. Your body needs enough rests because it is during this time that the body carries out cell regeneration and other processes that are going to empower and re-energize the body so that it can be ready for the next day's activities. When you rest, you are giving the body the chance to recover, and a lot of hair growth happens in this time of rest. Rest will also make you healthy and let your body function optimally. Therefore, it is possible that your follicles will benefit from it.
Always Use The Right Beard Thickner Products
There are many beard products in the market. There are oils, sprays, shampoos, and conditioners. Always go for the ones that are great for your skin to have maximum benefits. If you do not, you may have adverse reactions that are going to interfere with your beard growth.
Best Beard Oil For Thick Beards
In your journey to growing thicker beards, you have to ensure that you use the four weeks rule. Regardless of how tough the journey becomes, you can never quit. If you are searching for a supplement, check out Beardilizer beard growth formula, a prominent beard growth product.
While on the journey and even after you have reached the fourth week, you can apply the eight tips on getting thicker beards, and you will have the best results always. You will have your thicker beards in no time.
Checkout My Favorite Pick To Grow Thicker Beard