It is a great aspiration of men today to grow a fuller beard and be part of the high profile group of men with beards.
We take good care of our hair on the head but ignore the facial hairs. The beard needs the same amount of time, love and attention as given to the hair on the head.
Your beard also requires regular care such as trimming, moisturizing, conditioning and lubrication.
My obsession and focus have always been on better grooming and Beard Care, hence this Scotch Porter Review, an amazing beard product kit that includes various products to grow, rejuvenate and take personal care of your beard.
About The Brand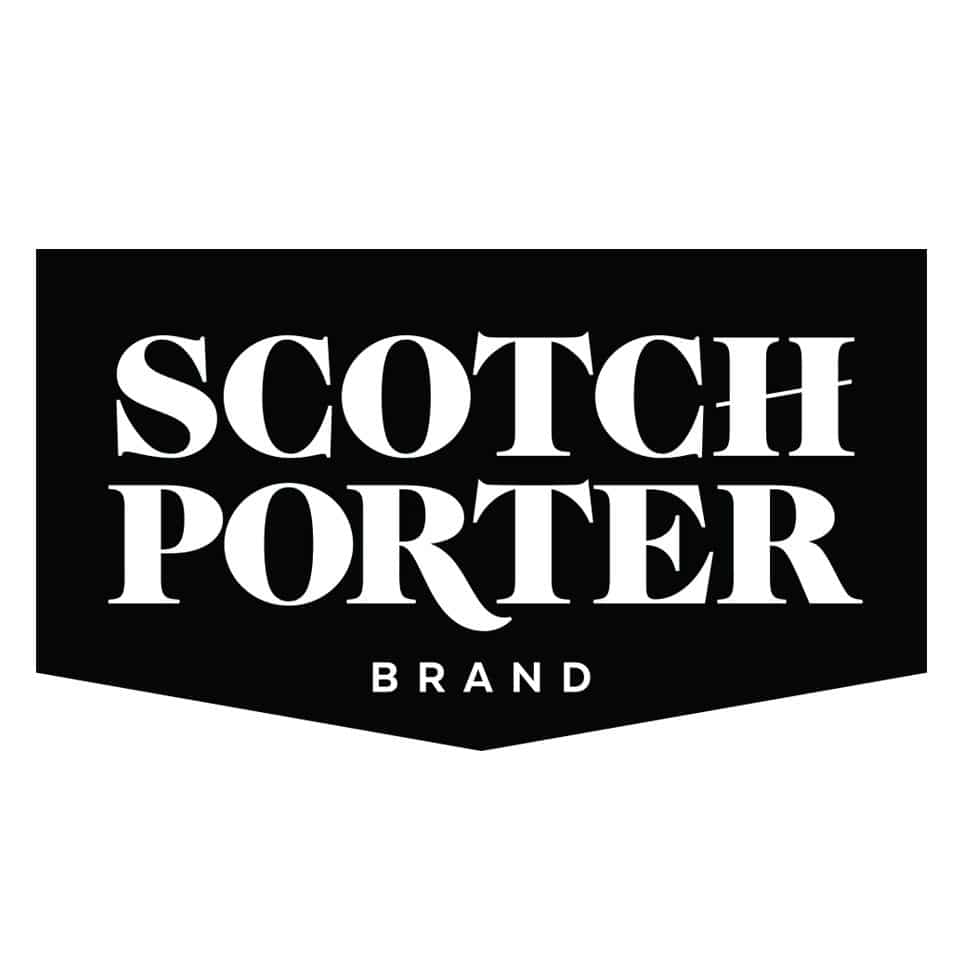 According to the remarks mentioned on the official website, Scotch Porter is not just a brand; instead, it is a call to action for the complete grooming of men.
The owner of the company, Calvin Quallis, sacrificed his comfortable job to succeed in his dream of producing an ultimate grooming product line for males. It has a wide range of men grooming ranges to give a stylish look to every man.
It is a complete grooming solution brand for men of modern days who are willing to look great. As we all know that our first impression is the last impression and a perfectly groomed man are recognized, appreciated and praised.
Even women like men who are well-groomed from head to toe.
From dressing sense to your accessories, from your hairstyle to your activity, everything comes in grooming. it is a brand that gives you a wide range of grooming products for your needs.
Products include beard care products, hair care products, skin care products, and shaving products, everything that you need in your daily grooming session.
Scotch Porter Beard Grooming Products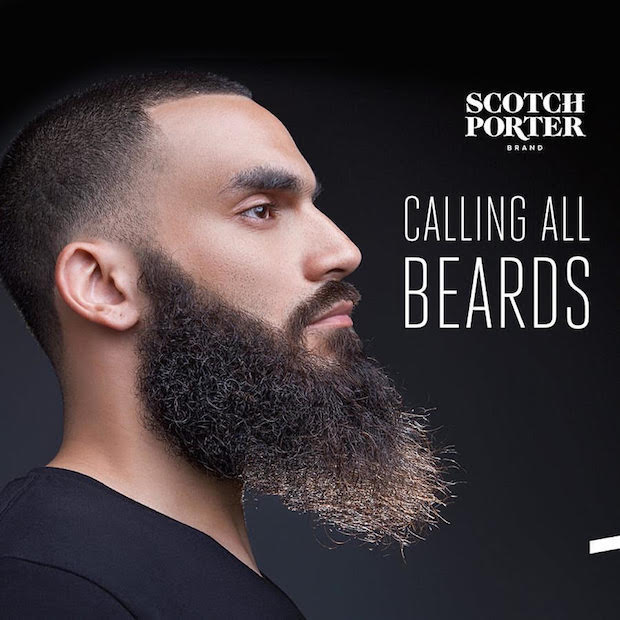 This Scotch Porter Review is all about exploring a range of products offered by this outstanding brand. The brand has a variety of beard products such as beard smoothing oil, growth oil, balm, conditioner, cream, and beard wash.
All these products make a complete beard package for men to grow and nourish their facial hair. So, let's start exploring these products.
Scotch Porter Beard Wash
Till now men used to wash their beard with soap while taking a bath because of a threat that beard growth products might harm their skin. But with Facial Hair Wash, men are gaining the confidence of using it for cleaning their beard.
It is a moisturizing and sulfate-free wash that cleanses your beard and give it a shiny look and softer in touch. This product – The Scotch Porter Beard Wash is for regular use as it is formulated with all-natural ingredients and is safe from any side effects.
Ingredients – Botanical Infusion of (Slippery Elm Bark, Marshmallow Root, Rosemary Leaf, Burdock Root, Neem leaf and Chamomile Flower), Sodium Olefin Sulfonate (coconut oil), Sodium Lauroyl Sarcosinate (natural amino acid), Argan Oil, Decyl Glucoside, Cocamidopropyl Betaine, Sodium Lauroyl Lactylate, Butyrospermum Parkii, Stearamide AMP, Coconut Oil, Leaf Juice, Aloe Barbadensis, Sucrose Cocoate, Aleurites Moluccana Oil, Cocamidopropylamine Oxide, Citric Acid, Agave Nectar, Polyquaternium 10, Silk Amino Acids, Guar Hydroxypropyltrimonium Chloride, Panthenol (Vitamin B-5) and Caprylyl Glycol
Scotch Porter Beard Conditioner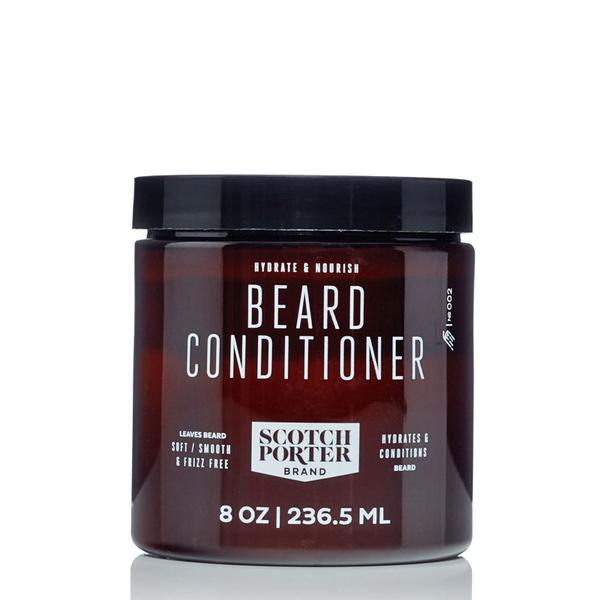 I found it as the best beard conditioner on the market, and there are various reasons for this. What can make you love this product is the sweet aromatic smell that enters your nose when you open the bottle.
The product is a perfect blend of natural ingredients that are a significant infusion of various herbs like marshmallow root, shea butter, chamomile flowers, and jojoba oil.
The Scotch Porter Beard Conditioner is to be used thoroughly after the beard wash for the great results.
Ingredients – Botanical Infusion of (Slippery Elm Bark, Marshmallow Root, Rosemary Leaf, Burdock Root, Neem leaf and Chamomile Flower) and aloe vera juice
Scotch Porter Beard Balm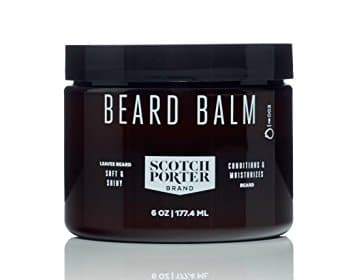 The Scotch Porter Beard balm is a third of the combo of four beard care products. It is one of the best beard cream or balms in the market that is a formulation of all-natural ingredients the same that are found in wash and conditioner.
Also known as beard cream, is a light beard balm that works effectively even used in low quantity. With just a fingertip application of this beard, balm gives your beard a silky, soft and dark look.
Many users reported that this beard balm is much better than any other beard growth products as it stimulates the beard growth and makes it thick within one week of use.
Ingredients – Botanical Infusion of (Slippery Elm Bark, Marshmallow Root, Rosemary Leaf, Burdock Root, Neem leaf and Chamomile Flower), Aloe Vera Juice, Organic Coconut Oil, Organic Butyrospermum Parkii, Behentrimonium Methosulfate, Sesame Oil, Jojoba Oil, Argan Oil, Kukui Nut Oil, Castor Oil, Vegetable Glycerin, Emulsifying Wax, Agave Nectar, Stearic Acid, Phenoxyethanol, Silk Protein, Caprylyl Glycol and Panthenol.
Scotch Porter Beard Serum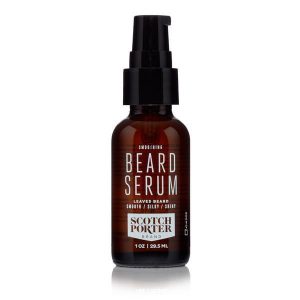 It is the fourth and the last product in the beard grooming product line. Once you have used beard balm to enhance the growth and styling, This Scotch Porter beard serum comes into play.
There are lots of beard oil on the market but what makes it best beard growth oil is its density. Unlike other beard oil, this beard oil is thick and dense which makes it easy to apply all over the beard.
It not only increases the beard growth but also reduces the curly hairs. Talking about the smell, it seems like soap. Though it doesn't smell similar to orange or forest, overall the scent is wholly aromatic.
Ingredients – Squalene, Jojoba Oil, Argan Oil, Silica, Corn Starch, Canola Oil, Sebacic Acid Copolymer, Hydrogenated Castor Oil, Kukui Nut Oil, and Styrene Copolymer.
Scotch Porter Beard Kits
The company offers special combo collections of products of various sizes and ranges. This beard kit gives complete beard care at a reasonable price. Let's evaluate them all.
Scotch Porter Beard Collection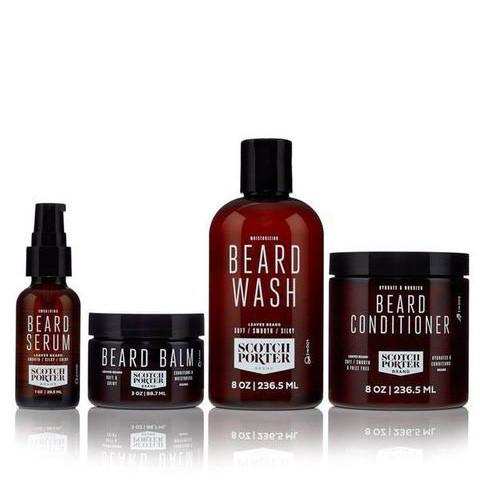 This beard kit is a standard combo of all the four beard care products that include beard conditioner, wash, balm, and serum. The company has priced the standard combo for $69.99.
Travel Sized Beard Collection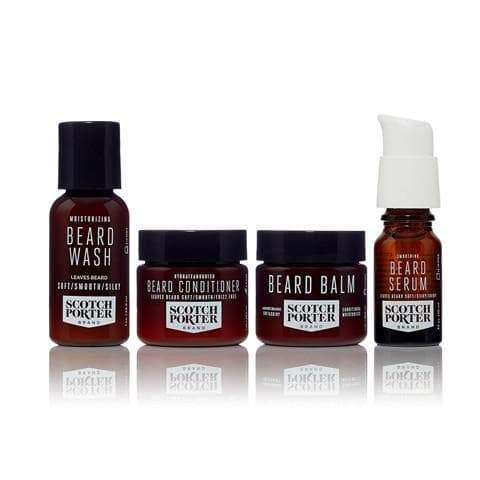 It is a kit specially designed to carry while traveling. The combo includes all the four beard products the same as standard collection combo just the difference is of quantity. The packaging is in small bottles for travel purposes. The cost of this travel-sized beard collection is $38.00.
Scotch Porter Ultimate Beard Collection
This beard products kit is an ultimate combo as it includes two additional products. Along with beard balm, conditioner, wash, and serum, the combo also includes Boar's Hair Brush and Kent Mustache Comb. The price marked by the company for this ultimate combo is $94.99.
Delux Collection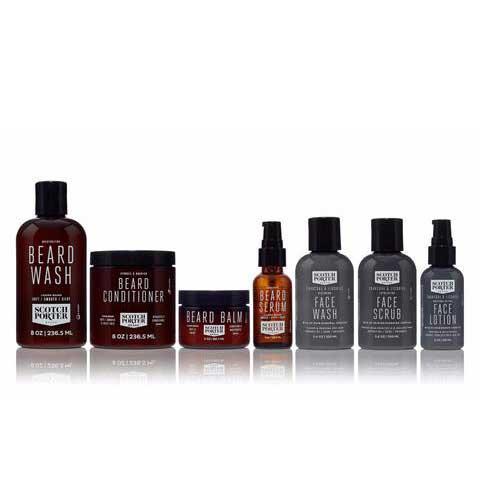 This combo package is a deluxe collection because of products included and the price marked for sale. I will not call it a beard collection because it is more than that.
The combo consists of beard serum, conditioner, balm and wash along with Face Wash, Face Scrub, and Face Lotion. It is a money saver combo as the collection of seven grooming range costs just $99.99.
Who Should Use This Beard Products?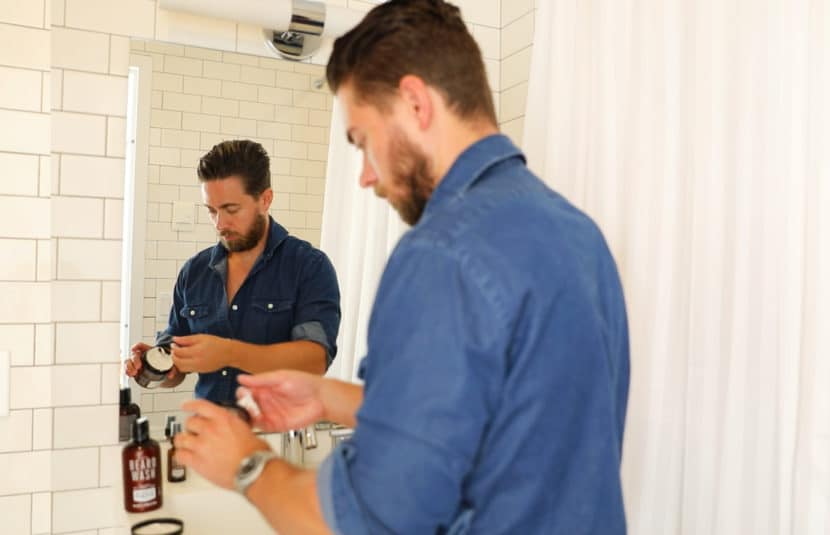 Though every man desiring to stimulate the growth of facial hair can use these beard care product but still there are some factors that you must consider before using it.
This product is not for the female who thinks it can work on growing head hairs
These products are not for teenagers or men below the age of 18
If any man has sensitive skin than he should avoid using this beard product as it may cause itching and irritation
Along with precautions, there are a couple of measures to follow to generate prominent results
It is essential to clean your beard regularly to avoid particles getting accumulated and slowing down the performance
Drink at least 10-12 glasses of water daily to hydrate your body and skin; this will increase the efficiency of the product.
Pros & Cons
Pros
The product line includes beard growth to maintenance
Manufactured by a well recognized and renowned male grooming brand
One of its kind brand that has all products
The ingredients are all-natural and safe
There are no reported side effects
Cons
Quite expensive compared to quantity offered
Not for males below 18 years of age
Common FAQs
Q – What can I expect from Scotch Porter products?
A – The brand not only offers the beard growth product; instead it has a wide range of bread products such as beard wash, conditioner, serum, and balm.
Q – How to make your beard soft with Scotch Porter?
A – Beard conditioner and balm are the products that help you make your beard hair softer.
Q – Are the ingredients natural and safe?
A – Yes, as per the company's claim, the ingredients used are all natural and 100% safe.
Q – I have a problem growing my facial hair, will it work for me?
A – Yes, as I mentioned above, the collection ranges from facial hair growth products to complete beard maintainance kit.
Q – Is there any product in this brand for beard styling?
A – Yes, it has a complete range of products that also includes beard styling product. Check out our page on trending beard styles to make your beard selection.
Q – Can I buy this product from nearby stores?
A – Not probably because the company offers the sale of their product only through online stores.
Q – When could I see results?
A – The noticeable results are visible within the first week of use, and for prominent results, you need to wait for 2-3 months.
Q – What are the other alternative to Scotch Porter?
A – There are various other beard growth products that can be an alternative to Scotch Porter. To make your selection easy, checkout My Beard Guy product comparison page.
Where To Buy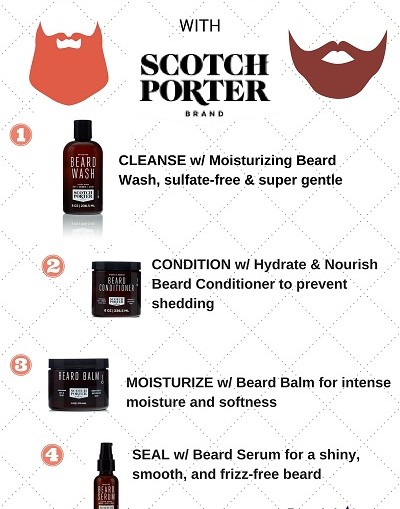 Scotch Porter is a big man grooming brand, and therefore they have their own sales portal. Though the products are also available for sale on various other online markets but it is better to buy it from the official website.
It is so because purchasing from online stores gives an assurance that you are getting genuine products. Buying from the official site also makes you valid for claiming money-back guarantee.
My Final Verdict
There is no doubt the Scotch Porter is one of the biggest and renowned brands in the male grooming market. The products offered by the company are also of high quality.
When you visit the official website, you find products for all your grooming needs, that's the best thing about the brand that I didn't find with any other brand.
Talking about beard collections, all the four beard products are best among all, and you get the product for beard growth, beard rejuvenation, and beard overall care.
Though the price is quite high when considering the single product but when you opt for combos, you save a considerable amount. Overall I would say that I found this brand as the best solution for male grooming.
So This Scotch Porter Review does culminate with me giving a big thumbs up to the product line.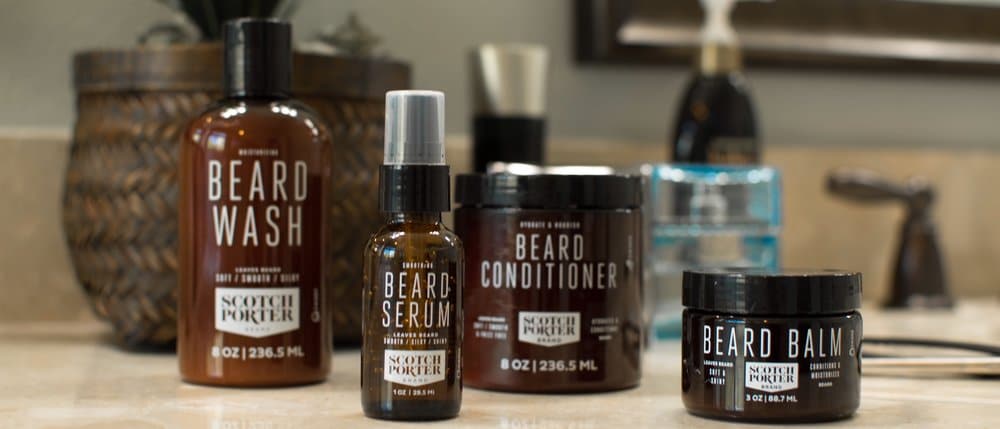 Visit our homepage for more beard growth-related information.